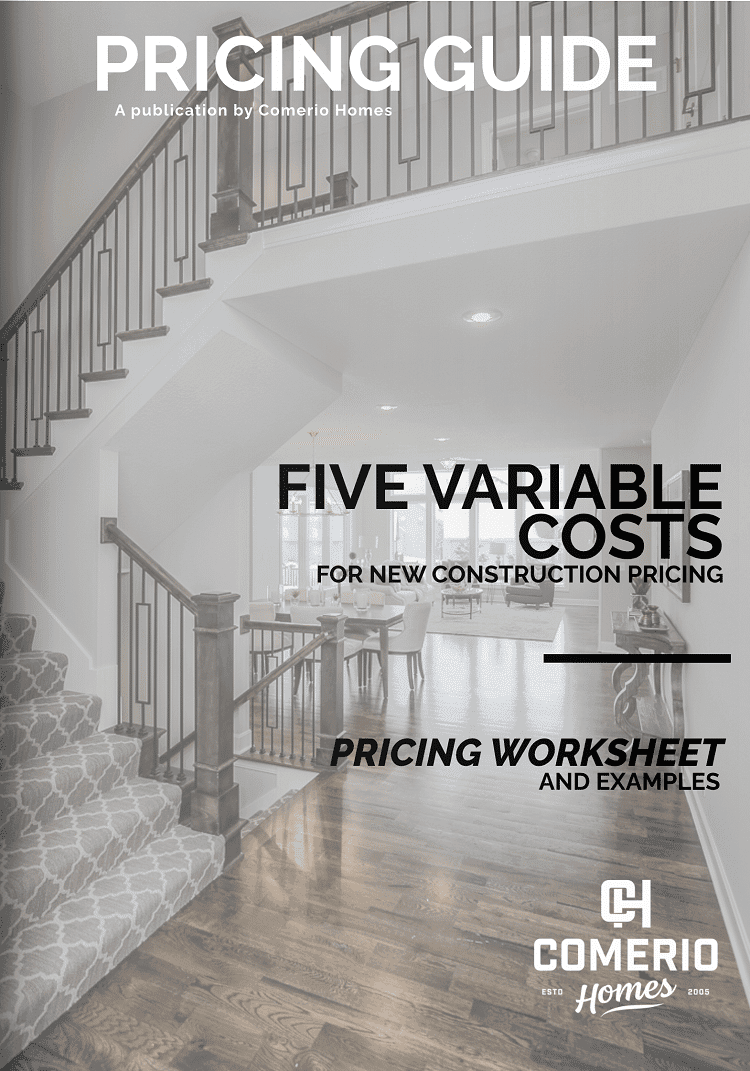 Are Custom Homes More Expensive?
Published by Comerio Homes
Are you contemplating building a custom home?  If so, you may have asked yourself, "Are custom homes more expensive?"  The very short answer would be, "They can be, but not necessarily!".  There are many variables that go into the construction of a custom home – very much like any non-custom home option.  It is the details of those variables, however, that will determine if a custom home becomes optimally cost-effective.  Ultimately, it is the consumer who has a good deal of control over the home's final price tag.
Sure, if homebuyers choose the absolute highest-grade building materials, one would expect the expense of a custom home to be dramatic.  
Higher-volume builders of non-custom homes are able to pass on cost savings to consumers by purchasing building materials in bulk, thereby reaping the benefits of suppliers who provide notable discounts.  This becomes a win-win for the builder and the consumer.
But 'bulk' is not a term one, usually, associates with the cost or construction of a custom home.  With custom homes, a builder's buying power becomes reduced since custom-home materials and amenities are so personalized – but, then, isn't that the excitement of building a custom home in the first place? 
Custom Homes Don't Have to be More Expensive!
As a builder of new homes in Johnson County, we want you to know that the real point is understanding that there is a flexibility factor involved with building custom homes, and that means custom homes don't have to be more expensive than their non-custom counterparts.  Think custom homes always cost more?  Prepare to be surprised!
Buyers of custom homes have the option to use the flexibility factor to select exactly what goes into their future residence.  From the design to the finishes to the appliances to the flooring, the price of a custom home can be cost-effectively managed down to the smallest detail.
Customization is just that – personalizing the details that fit the personality of the buyer – and custom homebuyers can work with the builder regarding what type of lumber, stone, brick etc. goes into the construction of their home.  The aesthetics and functionality of a custom home do not have to take a back seat when costs are, thoughtfully, reduced.
It's the 'what' that makes custom homes more affordable than you think:
Simplify the Design – If your custom home embraces a less-angled exterior design, you will save money.  Multiple angles and cuts increase the price.  Also, square-shaped homes are more economical to build than rectangular-shaped homes.  
Did you know you can save a good deal of money by building up instead of out?  A 2-story will require a smaller foundation than a 1-story design as well as less roof structure.  This translates into considerable savings.
Reduce Room Size – One does not have to believe that bathrooms or bedrooms need to be huge!  These rooms can be a bit smaller while, still, adding the kind of flow and ambiance a larger room would offer.  Even if, individually, rooms or your home's, overall, square footage isn't overly large, your custom home can still allow you to live large – achieve a more-spacious feel by using high ceilings and strategically-placed windows! 
Swap the More-Expensive Options – Solid-wood flooring isn't cheap, but there are flooring options that can give your custom home the authentic feel of wood at a fraction of the price – vinyl plank flooring is a great alternative for big savings.  Other options include vinyl stone flooring and cork flooring that can give you the look and feel of hardwood, without the big price tag.
Then, there are countertop options that will cut your costs, as well.  More-expensive stone, granite, and quartz can be substituted for tile granite, modular engineered stone, or silestone.
A Custom Home's Bottom Line
The bottom line is pretty simple:  there are dozens of ways a homebuyer can reduce the overall project cost of his or her custom home – it's about making a custom home less expensive than one would have thought possible.  
Even the architect, involved, can utilize creative ways to maximize the cost effectiveness of a custom home and find creative solutions to design gorgeous spaces to fit unique desires.
With cost-effective planning, a well-defined budget, and an economical approach, your custom dream home doesn't have to remain a dream.  It can become a reality without breaking the bank!   
Whether you desire to build on your land or ours, we will work with you on every detail!
Give Our Team a Quick Call!
You can reach Comerio Homes in various ways: 
Call or text our team at

(913) 270-7393

for immediate assistance – ask about a

free consultation

concerning your custom-home vision!

Respond to our website's

CONTACT US

page

Send comments or inquiries to

Info@comeriohomes.com

 
Tags: Custom Home Builder, custom homes, new construction


Categorized in: How To, New Home Building Education

This post was written by Comerio Homes