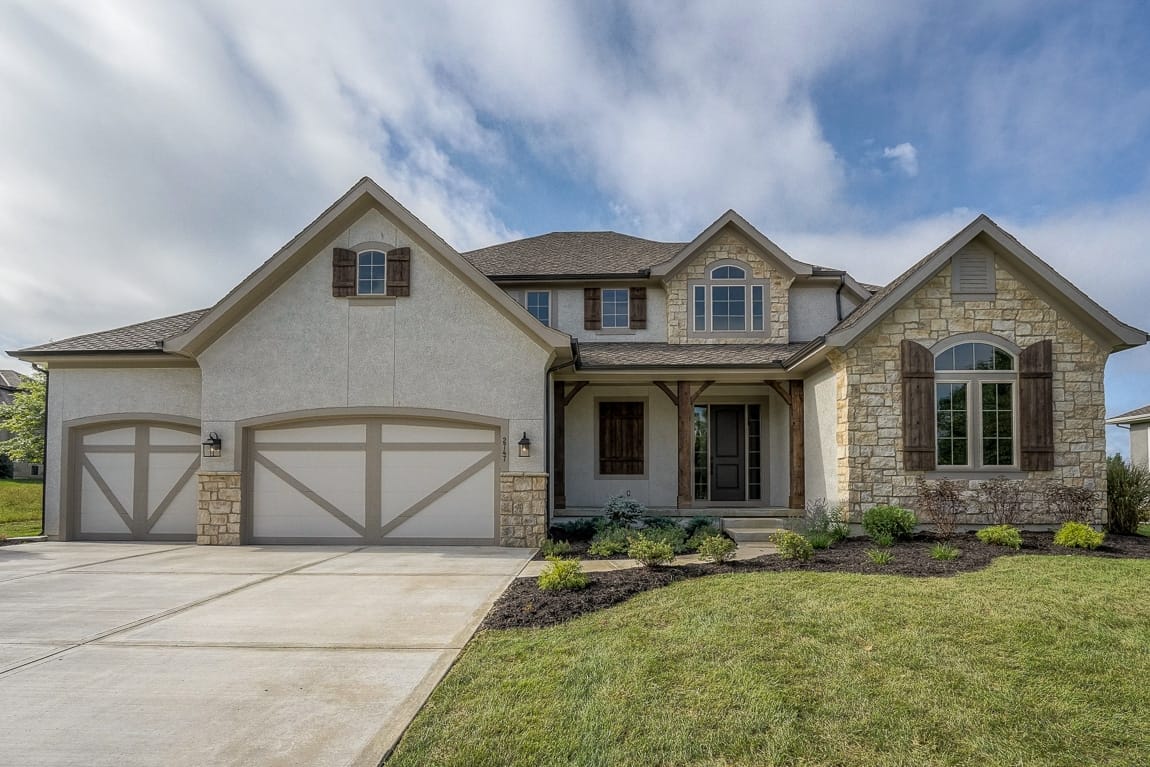 Why Build a Custom Home?
Published by Comerio Homes
Thank you for visiting Comerio Homes!  It is here where you will gain clarity on what you can expect if a custom home, as your dream home, is on your wish list.  Our custom homes and our new move-in-ready homes are in a league of their own due to their exquisite craftsmanship, breath-taking aesthetics, next-generation technologies, and accommodating price points.
Though custom home builders in Overland Park abound, it is Comerio Homes that goes the extra mile with helping those who are embarking on their new-construction home journeys.  Selecting a custom homebuilder who becomes the right fit is, absolutely, critical – you must choose well and choose wisely.
Comerio Homes – owned and operated by a Class A general contractor and remodeling expert – will partner with you on a personal and professional level and will be by your side through every phase of your new home's construction.
When compared to other custom home builders, it is Comerio Homes' passion for precision, diverse portfolio, uncompromising ethics, and industry recognition that combine to offer a caliber of character and commitment that is remarkable and timeless.
Pros and Cons of a Custom Home
Weighing the pros and cons of selecting a custom home vs an existing new-construction home or an older home on the market is prudent.  With an existing home, buyers have the advantage of moving in, immediately.  If the move-in home is an older home, however, unexpected surprises can lead to unexpected repairs that can generate outlandish expenses.
On the other hand, if one chooses a custom home, homebuyers must be prepared to wait out the longer time period it takes for the construction to be completed.  Timeframes for custom homes can fluctuate due to change orders, the plot's landscape, weather, labor, and supplies.
Let's take a peek at some of the pros and cons of selecting a custom home, in a bit more detail:
The Downsides of Choosing a Custom Home
Custom Homes Mean a Higher Price Tag – The average cost to build a custom home can be many thousands of dollars more when compared to buying a pre-existing home. One cost hike would be due to materials and supplies that may not be purchasable in bulk, thereby, creating a higher cost for the builder.
The good news:  If a homebuyer has realistically calculated the total monthly mortgage cost of a custom home and feels financially comfortable with the final tabulation, a custom home becomes one's ultimate dream home – where everything personalized and customized trumps any higher price tag.
Custom Homes Mean a Longer Wait Time – If a homebuyer needs a home right away – perhaps due to a job transfer, for example – going through the time-consuming logistics of building a custom home would, probably, not be a viable choice.
One must make preparations for 'temporary living' during the time a custom home is being built – that could mean renting or living with relatives.  Depending on how large or elaborate a custom home might be, it can take twice as long, or longer, to build this type of home vs a non-custom design.
The good news:  When it's time to move into one's customized dream home, the mantra becomes: It was worth the wait!
Custom Homes Mean Possible Lending Challenges – It can be more difficult to get a custom home appraised for the total build cost. As a result, many banks will not lend the entire amount required to build a home of this type.  In turn, the borrower may be required to supply a larger down-payment.
The good news:  Comerio Homes can assist with home-financing through our partnership with local lending institutions that cater to new-construction home buyers.
The Upsides of Choosing A Custom Home
When compared to searching for marketed homes through online resources or real-estate firms, choosing a custom-home offers some enticing perks:
Custom Homes Offer Personalization – Personalization is an opportunity for spaces to become, specifically, tailored to one's individual tastes and preferences. In other words, your personality will have an opportunity to shine!  Incorporating dramatic sightlines, designing a custom staircase, choosing the details of a home theater as well as selecting flooring, counter-tops, cabinetry and all other features and amenities is incredibly exciting because it becomes personal!
Our experts have a passion for design innovation!  Comerio Homes has a state-of-the-art Design Center dedicated for client selections.  If you are longing for something truly unique for your custom home, we will make an appointment for you to visit our vendors' niche design centers as we go through the custom design process.
Once we journey from vision to blueprint to finished product, you will stand back and remark: "This home is absolutely stunning and reflects who we are and what we love!"
Custom Homes Offer Tech-Advanced Efficiency – When clients choose a custom home, they have an opportunity to utilize a plethora of next-generation/energy-efficient building products and materials. As a result, notable savings on utilities become center stage.  Tight building envelopes, Low-E windows, high-efficiency HVAC systems, programmable thermostats, Energy Star appliances, and a host of other energy-saving options can be incorporated in any custom home build.
Custom Homes Offer Peace-of-Mind – Custom homes translate into peace-of-mind since every system, feature and component is brand new, dependable, and free of any wear and tear. From the roof to the plumbing to the HVAC system to the appliances, peace-of-mind becomes part of the ambiance!
Comerio Homes goes the extra mile to ensure a no-worry mind-set!  From including 3rd-Party Licensed Engineered soil testing to R-50 attic insulation to our 1-year warranty on all our new construction homes and much more, we meet and exceed buyers' expectations!
If You Can Dream It, We Can Build It!
After it's all said and done, Comerio Homes offers its custom-home clients diversity, distinction, choice and flexibility.  Whether constructed on your land or on ours, your custom home plan will never be in better hands!  From the foundation to the flow to the finishing touches, every detail will be meticulously crafted to culminate as your personal haven – to accommodate and enhance your life, your dreams, and your future!

Tags: build custom home, custom homes


Categorized in: Comerio Homes News, New Home Building Education

This post was written by Comerio Homes