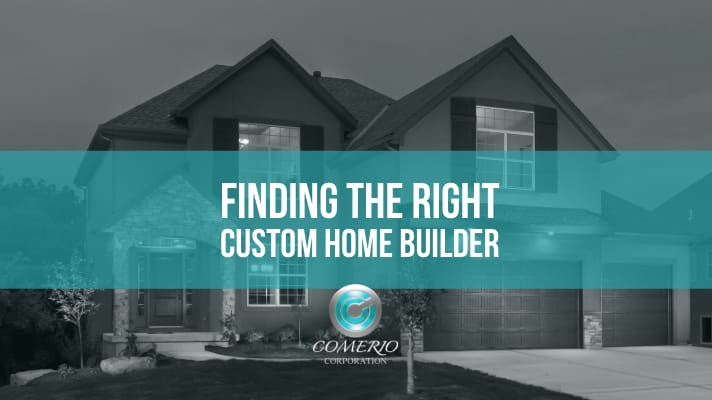 How To Find the Right Home Builder for Your New Home
Published by Comerio Homes
In order to build your dream home, you'll need a custom homebuilder that can help you bring your vision to life.
Building a custom home is unlike any other experience. You get to make your dream home a reality, with the location, layout, and features you've always wanted in a house.
When thinking about selecting a builder, be sure to prioritize a few important items so you'll be better prepared to find the ideal contractor for your needs.
When you're ready to start building your custom home, remember to look for a builder with these five key traits:
1. Extensive experience.
A long and successful history of crafting homes in your area is one of the most important qualities to look for in a custom homebuilder.  Many builders come and go, but one of the telltale signs of a quality custom home builder is standing the test of time.
2. Happy customers.
Another perk of choosing a builder with a lot of experience is that you get to hear what existing customers think. Look for other homeowners who have shared their experience with the builder, like the ones here. This will help you get a sense of how smoothly the building process goes, as well as how the company treats its customers.
3. A strong presence in the area.
One of the benefits of building a custom home is the opportunity to choose your perfect location, whether that's in a quite Overland Park suburb or tucked in the middle of 10 remote acres in Olathe. You can make the homebuilding process easier on yourself by selecting a builder that has several design locations in your area. You'll likely be stopping by the design center several times during the build, and choosing a well-established builder ensures that you never have to travel far for support.
4. Assistance with home design, site evaluation, property development, and more.
Investing in a custom home can feel a bit scary at first. After all, you want everything to go just right, and there are a lot of steps to the process. It's no wonder buyers are drawn to those builders that help them through the process, including home design and floor-plan customization, financing, site evaluation, and property development—and without countless upcharges. At Comerio Homes, we work with our customers to help them find the right new home design that fits their needs. We combine our custom home building services with existing floor plans giving our customers the flexibility of choosing from various color selections, flooring, appliances and other details for their new home.
During the home building process we provide eight hours with our in-house interior designer to help select just the right option, colors, light fixtures and other amenities to make their new house a home. We also provide builder meetings to make sure your new home building experience is a success. Our cloud based Buildertrend software allows our customers to have 24/7 access to the project and make changes if needed.
5. Quality brand-name products that come standard.
You want your custom home to have the highest-quality finishes, including appliances, flooring, roofing, and paint. That's part of what makes it a dream home. Unfortunately, many builders charge extra for brand-name products—an approach that makes you spend more to get what you expected. That's why it's helpful (and more affordable) to work with a builder that offers brand-name products standard on every home. This will help you rest assured that every aspect of your home will look beautiful and work as it should, for years to come.

Are you ready to find out more about custom homebuilding with Comerio Homes? Contact us today! 

Tags: Building a Home, Custom Home, Custom Home Builder


Categorized in: How To, New Home Building Education

This post was written by Comerio Homes